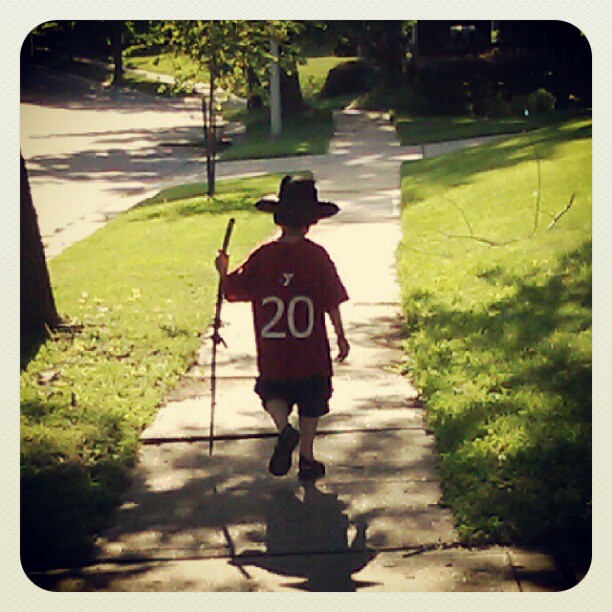 Growing up among the Missouri countryside as a child, I was given amazing opportunities to explore the landscape and let my imagination run wild. To my young eyes, the nearby woods were full of magic and provided a unique adventure each and every day. I recall crossing the flat rocks of Fishing River in hopes of finding Jesse James' long lost treasure. My friends and I would build massive forts out of fallen tree limbs to prepare for an attack from that day's marauding, make-believe enemies. Our days were filled imagining we were knights, cowboys, explorers and anything else our hearts desired, and the world around us seemed to present unlimited space to discover something new on an almost daily basis.
As I grew into a teenager, I lost my love for those woods. The kids who lived in the nearby suburb seemed to be having all the "cool" fun – hanging out at the pool instead of swimming in an oversized water trough, or skateboarding down endless streets rather than trying to find even the smallest piece of concrete to surf. But as I grow older, I look to my own three sons and can sense their thirst for adventure, making me long to return to the country.
The picture above is my eldest boy Paul. Looking at that picture I'm reminded of my favorite storybook characters when I was his age – Tom Sawyer and Huck Finn. I don't think there is a Missouri boy who has not dreamed of following in their adventurous footsteps. As we walked down the sidewalks of our suburban neighborhood last night, he asked me if we were walking down a trail. "It's a trail if you want it to be," I said, remembering the real trails I forged in my youth.
Perhaps one day I will take Paul to my old stomping grounds out in the country. If the folks living there now don't mind, maybe I will show him how to build a proper fort in the woods and we will defend it from unceasing pirate attacks. Then after a successful battle, we could climb a mulberry tree and eat the fruit until our faces are purple and our stomachs ache. And maybe, just maybe, he can help me finally find that lost treasure that Jesse and his gang buried so long ago.